John 3:3 "You must be born again."
Church Furniture | Pulpits, Pews, Chairs | Custom
Born Again Pews is a church furniture company that manufactures church products and services available for a congregation that needs furniture. Located in Kansas, Oklahoma, Born Again Pews is experts in designing, refinishing and building custom church pews, tables, chairs and pulpits. The basis of our company is derived from our passion to serve people who require long-lasting, durable and comfortable church furniture.
At Born Again Pews, we custom build handcrafted church pews, pew ends, plupits, chairs, and many other church furniture items. We use solid red oak to build all our church furniture designs. The solid red oak is heavy and hard which produces a timeless and beautiful finish. We offer a lifetime manufacturer warranty for all church furniture products.
We started Born Again Pews in 2005 to help smaller churches save money and have access to quality church furniture. We offer quality church products to small churches and congregations with the need and ability to customize church furniture. With Born Again Pews, smaller churches can customize and personalize each furniture item to satisfy their unique worship style.
We specialize in making handcrafted church pews and selling used pews that are in mint condition. Pew ends enhances the design and function to provide comfort and durability.
Each of our pulpits are custom designed to suit the place of worship for the church. we are providing for. We offer a choice of a basic pulpit design or a custom pulpit design for a harmonious setting.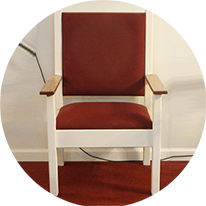 We provide church chairs for multiple functions like church choir and overflow of your congregation. The church chairs are stackable and convenient for moving and storage.
Price Match and Free Quotation!
Church Financing Program!
ABOUT US
We are an American owned and operated church supply manufacture located in Kansas, Oklahoma. Born Again Pews is a customer- focused company with 13 years of experience and we are dedicated to the churches we serve. We are a team of trustworthy, caring people and top quality church furniture is the basis of our locally owned and operated business.
Solid Oak Design & Construction
High Quality Hand Made Craftsmanship
Nationwide Delivery & Installation
Lifetime Manufacturer Warranty
QUALITY ● VALUE ● RELIABILITY
At Born Again Pews, we handcraft all new church pews, pew ends, pulpits, chairs, and other church furniture items from solid red oak, taking God's gift to us, and building beautiful church furnishings to worship Him. Our worship furniture is solid, comfortable and attractive. We know you will be fully satisfied that we guarantee our used church pews & new church pews furniture for life!