Here's the custom camo pew we took to Duck Commander in Monroe, Louisiana.
We were heading to Eros, Louisiana to begin a series of installations across the southeast, and we felt moved to take a camo-upholstered pew to the headquarters of Duck Commander.
When we arrived, there was a long line of people waiting to get a chance to talk with the Duck Commander gang, but we were able to step right in, and there was the perfect spot for the pew — they had just cleared the space that very day.
While we were there, it happened that Good Morning America had also dropped by, and they interviewed us.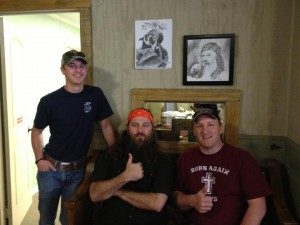 We're fans of the show, and we were pretty excited to be able to visit with the guys!
When you have a generous impulse, you should go with it. We had an exciting day because we did.
Next up, we'll tell you about the rest of our adventures in Louisiana, Georgia, and Florida!