As summer approaches, it's fun to look back on all the places the crew from Born Again Pews have visited this year, bringing pews for churches, benches for courthouses, and even one very special custom seat for a bunch of TV stars!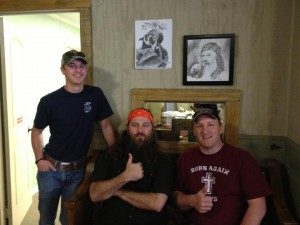 (Okay, we took the camo pew to the Duck Commanders last year, but we got our pictures in the paper for it this year!)
Booneville, AR
Hackett, AR
Holly Springs, AR
Colorado Springs, CO
Rayville, LA
Belleville, MI
Lake City, MN
Seneca, MO
Morgantown, NC
Grove City, OH
Alva, OK
Tulsa, OK
Cement, OK
Nashville, TN
Mesquite, TX
Wichita Falls, TX
We feel very blessed to be able to support our families by doing such valuable work, and also for the opportunity to meet so many of our brothers and sisters in Christ, and to know that we've had a part in making their worship experiences satisfying.
Who knows what the rest of the year will bring? Summer is an excellent time to plan for new church pews in your sanctuary, and we'd love to visit your congregation next! Get a free quote and we'll be happy to bring new church furniture to you!