Church Chairs for Sale
Your church is a sacred place that the community attends to gain hope, understanding, and faith. Give your church the furnishings it needs to earn members' trust and make them feel comfortable. Born Again Pews is a company dedicated to manufacturing and installing high-quality church furniture your church can afford and use for years to come. 
We sell church pews and church chairs that unify your space and its purpose. With new furniture as a finishing touch, you'll have an inviting building of worship people can love and cherish throughout their lives.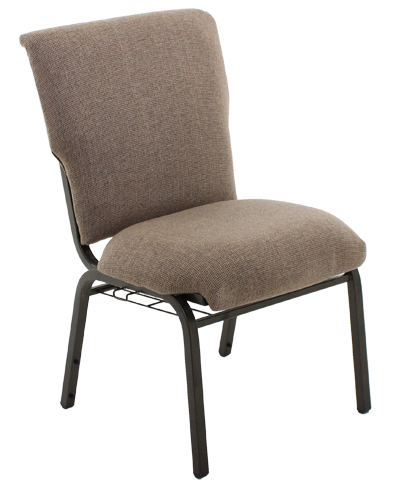 Metal Frame Church Chairs
Our metal church chairs are versatile pieces that you can use for any need, including choir areas or overflow seating for your congregation when pews are full. The chairs are constructed from 18 gauge steel square tubing, while the back, carriage, and legs are made with 1-inch square mandrel-bent tubing. The braces have 3/4-inch square tubes. Each six-piece frame member is fillet welded in at least two places on each end. 
Book racks are an add-on feature we offer for the chairs. They measure 1/8 inch and are welded on a 1 3/4-inch center. Ganging clips of 1/4-inch gauge wire provide convenient attachment from chair to chair. The racks also feature a small holder for sacramental glasses. 
The upholstery is made with a backed, heavy Polyolefin fiber. We fully roll it and staple it onto the padded seat perimeter for added durability. We use Polyolefin fabric because it is strong, maintaining its vibrant color and resisting stains. Seat padding comprises a 2 3/4 inch virgin polyurethane base pad with a 1.6 lb/cf foam density. The back padding is 1 1/2-inch virgin polyurethane foam sculpted with a 1 1/4-inch lumbar support. We use a matching fabric without padding to make the back cover.
Clergy Chairs
At Born Again Pews, we offer a wide range of clergy chairs and church pews to suit your needs and coordinate with your other pulpit furniture. When it comes to your church's pulpit, everything should coordinate. The pulpit should match the tables, chairs, pews, and any other furnishings in that area. If you find that your pulpit chairs need replacing, allow us to help. We build some of the finest clergy chairs you could ask for.
Our craftsmen work hard to custom-build or recreate wood chair styles that suit your church. After they complete the framework, you can choose a finish that complements the church and the overall message you want to send to the community. Then, pick an upholstery color to match your Born Again Pews pulpit and pews.
Custom Wood Chairs
The above clergy chairs are custom wood chairs but Born Again Pews will also build wood chairs for any other church needs. Perhaps there is an empty hallway in the church or a foyer that needs some nice chairs for older members of your congregation. Whatever your church may need a set of chairs for, we can help.
High-Quality Chairs Made to Last
As a Christian, family-owned company, Born Again Pews is committed to your satisfaction. We strive to cut unnecessary costs, but we never make cuts when it comes to quality. We build and customize our furniture and install it in your church to make sure it works perfectly and fits in beautifully. Everything is made by highly experienced artisans. With such professional builders at work, you can trust that our affordable church chairs and other furnishings will offer years of life and service for your church or organization.
We Can Build Matching Furniture or Match Your Chairs to Existing Church Furniture
If you have church furniture that you already love and want new chairs to coordinate, we can make it happen. Our highly skilled builders can take on any task, including matching your new church chairs with your existing furniture. 
If you have beautiful chairs and need additional church furniture to match, we can also help with that. A great church is united in appearance and faith. Bring your furniture together by ordering new pews, tables, and pulpits in colors and styles that agree with your current chairs.
Contact Us for a Free Quote
If your church requires beautiful chairs that will enhance the splendor of your community's faith and hope, let Born Again Pews help. We have all the experience, care, and tools you need to unite your church and make members feel more welcome. Reach out today to learn more and get a free quote.